Hi everyone!
I'm linking up with
Farley's Currently
today.
Here it is:
This weekend I celebrated my 30th birthday. I had a great time with friends and family!
Here is a picture of me and my girlies.
And this one is of me and my Marc. I call my husband "My Marc"! Hehehe!
My favorite things?
My husband bought me a new laptop for my birthday!! I'm so excited to start making some new things for my TPT on it. Yay!!
Today, I'm fighting a cold so my favorite thing for the day is my pillow! Hahaha!
And here is a picture of my #1 favorite thing. Well, favorite people! My boys :)
Tomorrow, I'll be participating in Tessa's sweet giveaway over at
Tales From Outside The Classroom
. I'll be giving away one of my store items for FREE to everyone! You'll have to wait for tomorrow to see what item I chose ;)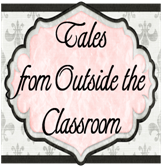 A demain! (See you tomorrow!)