Congrats to Tessa for reaching 700 followers!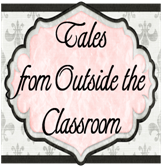 I am helping out Tessa from
Tales From Outside the Classroom
today for her
sweet giveaways
.
My A-Z Book will be FREE for all you amazing peeps :)
Grab it now as it will free today only!
Sorry! This giveaway is now over :(
Stay tuned for more on the way!
********************
In other news, I wanted to share my newest craft with you all!
It's a scarecrow!
I just LOVE Fall! I usually take my students outside to look a all the beautiful colors during the Fall season. We observe changes and then we write about it! They just love telling me what they saw on our "Fall Walk"!
This year, I wanted to create a craft to go with our Fall writing.
I also created a class survey to go with my craft and writing papers. My students will answer the question "Which Season Is Your Favorite?" and I will make a tally on the board. I will then distribute pictures that will be used to make a class graph! This is going to be so much fun!
Here is what you will find in my Scarecrow pack:
Craft:
* Templates for this craft.
* Questions to make this craft a glyph (optional).
* 3 different writing prompts (available with both primary and secondary lines)
* The title for your bulletin board is also included. Copy it on any colored paper, cut, and laminate!
Class Survey Activity:
* Worksheet - Students walk around the room asking their peers which season they like best.
* Everything you need to create a class graph - Titles, pictures for pictograph, instructions.
Click on the flower if you want to find it at my TPT store.
Have a good day,